Nowadays, we hear a lot about incidences with cardiac ailment in our surroundings. Many of us worry that if we come across such ailments then how we will manage the medical expenses. Let us keep our worries to rest because with HDFC Life Cardiac Care one can live tension free.
This policy is specially designed to give financial protection to the patient as well as to his/her family members. HDFC Life Cardiac Care is a comprehensive plan aimed at providing financial protection in case you are diagnosed with a cardiac condition or are undergoing a procedure as covered under the policy.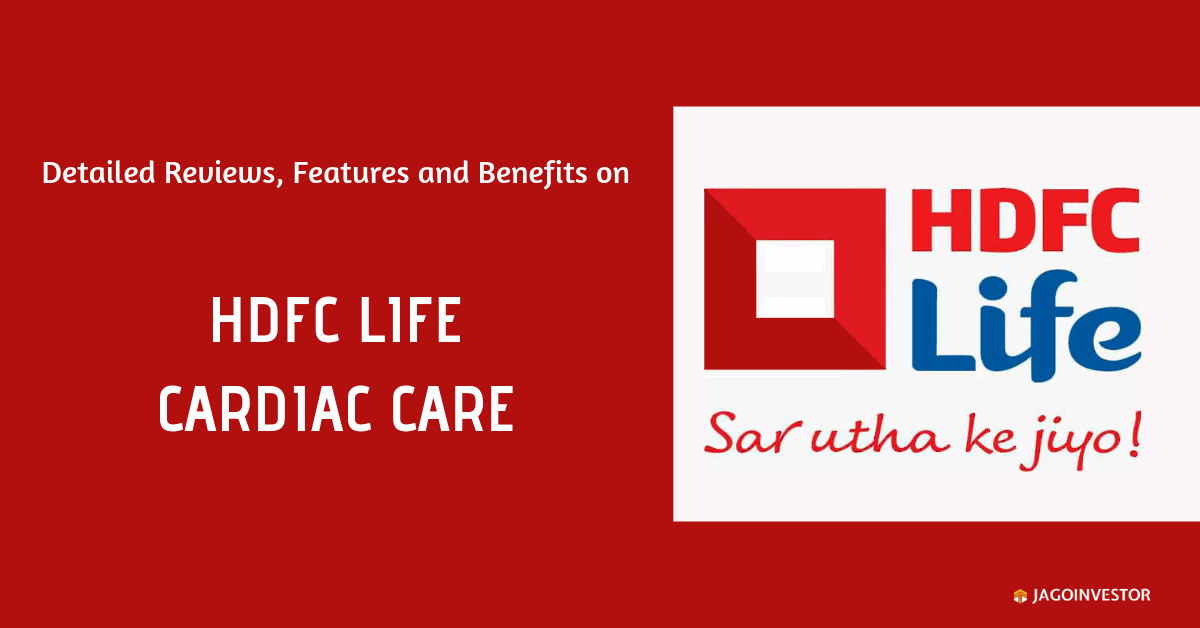 Features of this policy –
Comprehensive cover for an extensive list of cardiac conditions and procedures.
Fixed lump sum pay-out irrespective of actual expenses incurred for diagnosis/procedure.
Multiple Claims of same or different conditions/procedures can be covered subject to the exhaustion of applicable Sum Insured.
One can choose Indexation benefit to ensure one stays ahead of medical inflation.
One can choose Hospitalization benefit to get lump sum pay-out in case you are hospitalized due to any of the
covered condition.
Tax benefits under Section 80D of the Income Tax Act, 1961.
Premium Paying Frequency – Single and Regular (equal to the Policy Term)
Benefits of the policy –
There are various benefits of this policy. Let us have a closer look at these –

But before we look at these benefits, let's have a look at these 18 heart conditions which have been divided into 3 groups based on the severity. The Benefits payable in this policy will solely depend upon these 3 groups –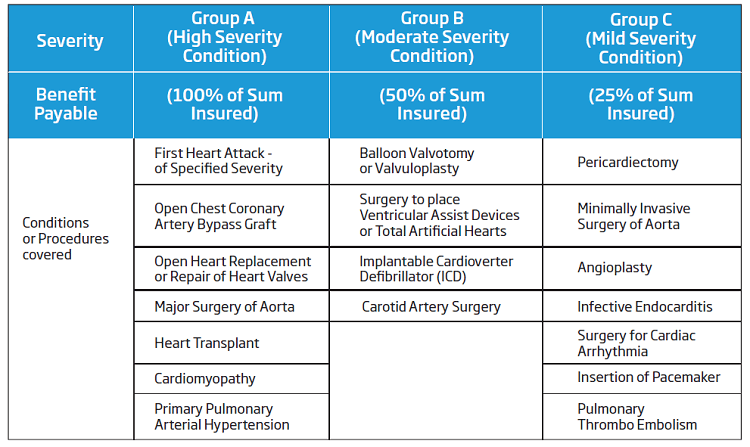 A) Base Benefit –
If the policyholder goes through any of the above conditions then the benefits payable will be equal to –
i) 100% of the Sum Insured under Group A
ii) 50% of the Sum Insured under Group B
iii) 25% of the Sum Insured under Group C
The policyholder will have the flexibility to claim for the same or different conditions/procedures (falling under Group B & Group C) subject to the exhaustion of 100% of Applicable Sum Insured (plus Indexation Benefit, if any) and Cooling-off Period.
If the policyholder undergoes more than one condition, then the claim shall be payable for only one condition.
The benefit payable to the policyholder shall not exceed the unclaimed Sum Insured. Unclaimed Sum Insured shall be calculated as follows:
Unclaimed Sum Insured = Original Sum Insured – Total Benefits paid out (since inception)
The policy shall terminate on earlier of –
a) Payment of 100% of Sum Insured against all valid claims and
b) Expiry of the policy term
B) Hospitalization Benefit –
In the policyholder is hospitalized due to any covered conditions or have undergone any of the procedures listed previously then, a lump sum amount will be payable as follows –

Non-ICU and ICU benefits shall be independent and subjective to their respective limits.
The maximum claim limit during a policy year is limited to 10% of Original Sum Insured
For both Non-ICU and ICU, the maximum claim limit during the policy term is limited to 30% of Original Sum Insured.
If the policyholder has exhausted the maximum admissible limit under the Non-ICU benefit, then Hospitalization Benefit (HB) shall continue with only the remaining limit under the ICU benefit and vice-versa.
The benefit payable under this benefit will be payable only after a minimum of 24 hrs of hospitalization due to one of the covered conditions as per the plan and for which the claim has been successfully admitted.
If the Hospitalization Benefit gets exhausted, you shall need to pay premiums only towards the other benefits i.e. Base Benefit and Indexation Benefit and/or Income Benefit, which will be effective from the immediate following policy anniversary.
C) Indexation Benefit –
If the policyholder has made no claim during the first policy year, then the Original Sum Insured opted for at the inception of the policy shall increase by 10% p.a. starting from the first policy anniversary.
The Sum Insured shall continue to increase till earlier of :
Maximum of 200% of the Original Sum Insured opted at policy inception
any claim event (excluding a claim for hospitalization benefit)
i) Indexation Benefit can be opted only at policy inception.
ii) There shall be no further increase in the original sum assured, once there is a successful admission of a claim (Mild, Moderate or Severe).
D) Income Benefit –
If the policyholder is diagnosed with conditions mentioned under Group A, then the policyholder will receive 1% of Sum Insured opted at inception for a fixed period of 5 years.
This benefit will be paid in addition to the base benefit and optional benefit (if any).
If the policyholder dies during the income benefit period, then the remaining pay-outs will be made to the nominee.
Future income payments or a part can be surrendered in exchange for a lump sum during the income period.
This lump sum shall be the discounted value of the future income payments at the prevailing revival interest rate charged by the company.
Eligibility Conditions of this policy –
HDFC Life Cardiac Care also has some eligibility conditions. Let us have a look at them –
Minimum and Maximum Entry Age

Minimum and Maximum Maturity Age

23 yrs
70 yrs (SP) & 75 yrs (RP)

Premium Payment Mode

Single premium –

Annual
Half-yearly
Quarterly and
Monthly

Minimum and Maximum Sum assured

Policy Term

Single Pay: only 5 years
Regular Pay: 5 to 40 years

Minimum and Maximum Premium

Minimum Rs 357.40 (RP)
Minimum Rs 1313.20 (SP)
Maximum Rs 6,55,860 (RP)
Maximum Rs 14,43,435 (SP)
RP represents regular premium and SP represents single premium
Is there any death or maturity benefit offered in this policy?
There is no death benefit or maturity benefit under this policy. The policy shall terminate at the end of the policy term.
Is there any surrender benefit or value under this policy?
There is no surrender value in case of regular pay option, but in case of single pay option the surrender value paid out is calculated as per the below-given formula –
60% x (Single Premium – U/W cost) x (1 – M/P)
Where,
a) UW cost – Rs 2,750 for medically underwritten life
b) M – policy month of surrender
c) P – policy term in months
Is there any survival period to become eligible for benefit pay-out ?
Yes, there is a survival period to become eligible for benefit pay-outs. Any benefit under this policy will be paid only if the policyholder survives for a period of 30 days from the date of occurrence of the Covered condition.
Can the lapsed policy be revived again?
Yes, the lapsed policy can be revived within 2 consecutive years from the date of the first unpaid premium provided all the due premiums have been paid with interest.
Can I cancel the policy if I didn't like its terms and conditions?
Yes, if the policyholder didn't like its terms and conditions, then the policyholder can return the policy within 15 days from the date of receipt of the policy. This period is called the Free Look Period.
If the policyholder had purchased the policy through the Distance Marketing mode ( it is a mode where insurance policies are sold through telephone, internet etc apart from face to face interaction), then the free look period will be of 30 days.
Conclusion –
So by now you all know every detail about this policy. Now it's up to you to decide will this policy be helpful for you or not. Let me know your views in the comment section. If you have any questions regarding this policy then please let us know in the comment section.