Health Insurance Policies have become very important nowadays due to rising medical expenses of various ailments. Current life style of individuals has made them more prone to diseases. In such a situation, it will a wise decision to take a health insurance policy.
Chola Mandalam has come up with a Chola hospital Cash Healthline Policy which offers fixed daily allowance paid for each completed 24 hours of hospitalization which takes care of miscellaneous expenses of the policyholder during hospitalization. In the case of hospitalization in the Intensive Care Unit, the daily cash benefit will be doubled for the duration of ICU confinement.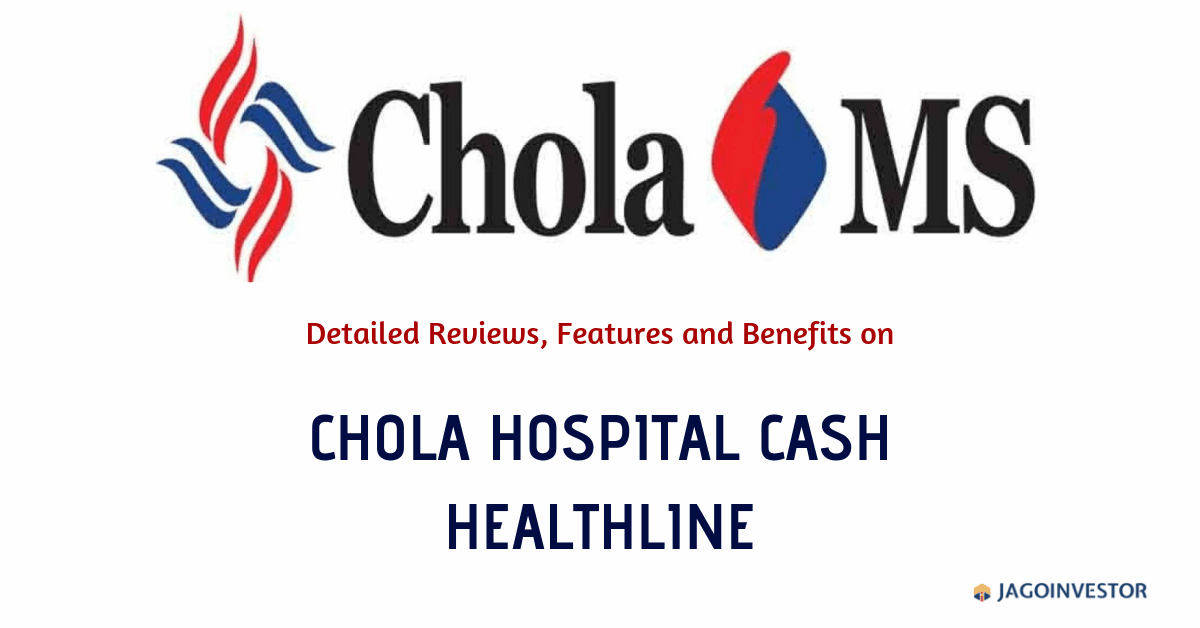 Features of this policy –
Daily Cash Benefit for each continuous and completed period of 24 hours during hospitalization irrespective of whatever the policyholder spends.
Premium paid for self, spouse, dependent children and parents are exempted from tax under section 80(D) of Income Tax Act, 1961.
Direct claim settlement through Chola MS HELP to ensure the elimination of third-party involvement.
No pre-policy health check-up, up to the age of 55 years. Up to 50% of the cost of pre-policy health check-up to be reimbursed on the issuance of the policy.
Family discounts on the premium paid. 5% discount on 2 family members and 10% discount on more than 2 family members in the same policy.
Benefits of the policy –
Entry Age –

For self, spouse, parents, and parents in law should be between 18 years to 65 years.
Children between the age of 03 months to 26 years (unmarried female children aged less than 36 years).
Siblings aged between 5 years to 65 years

Wide range of 6 plans to choose from
Policy Term of 1, 2 and 3 yrs.

Life Time Renewal Facility
Sum Assured can be enhanced at the time of the renewal of the policy
What all is covered under this policy?
Hospital Confinement Cash Benefit
Double Confinement Benefit – in case of ICU hospitalization
Convalescence Benefit – lump sum payment for hospitalization beyond 20 days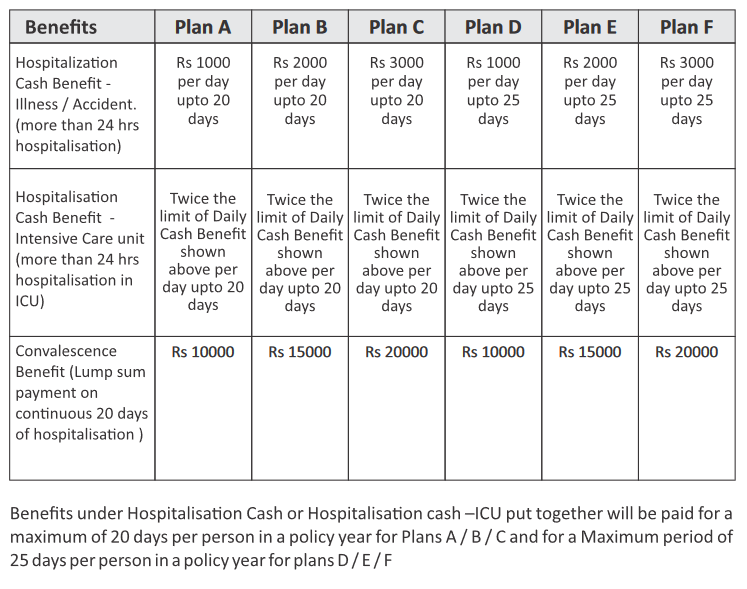 What all is not covered under this policy?
Below mentioned points are some exclusions under this policy. For the entire list of exclusion under this policy, kindly refer to the policy wordings.
Benefits will not be available for any pre-existing condition(s), until 48 consecutive months of continuous coverage have passed, since the inception of the first policy with this insurer.
Any illness diagnosed within 30 days of the effective date of the policy period if this is the first individual Hospital Cash benefit policy with Chola MS. If the policyholder renews the hospital cash benefit policy with the Chola MS, then the waiting period of 30 days will not be applicable.
Following diseases are excluded during the first two years of inception of policy –
Rheumatism and Arthritis of any kind,
Gastric and Duodenal Ulcer,
Any type Of Benign Cyst / Nodules / Polyps / Tumours / Breast Lumps,
Hysterectomy unless because of malignancy,
Dilation and Curettage,
Treatment of diseases on Ears / Tonsils / Adenoids / Deviated Nasal Septum, Stones in the urinary and Biliary Systems.
Anal Fistula, Fissure and Piles. etc….
If these diseases are pre-existing at the time of the proposal, the same will be considered as per the pre-existing exclusion clause under the policy.
Can I cancel the policy if I didn't like its terms and conditions?
Yes, if the policyholder doesn't like the terms and conditions of the policy, then the policyholder can cancel the policy within 15 days from the date of receipt of the policy.
What all documents are required if the policyholder wants to claim the policy?
Duly filled and signed claim form within 30 days of discharge from the hospital.
Discharge Summary
Doctor's Reports
Diagnostic Reports
First Consultation Paper
FIR/MLC copy in case of RTA
Please note that the policyholder can submit the duplicate copies of the above documents duly attested by the hospital authorities or by other insurance companies if the policyholder has submitted original documents for an indemnity claim.
Conclusion –
So, by now you know each and every important detail about this Chola Mandalam Hospital Cash Healthline Policy. Do let me know if I have missed any important points in the comment section. Please feel free to ask any doubts regarding this policy.