Considering the extensive working hours of an individual, insufficient physical activities, unhealthy body weight etc…. are leading to many types of critical illnesses. We all know that these critical illnesses come with very serious cost. It is not at all a surprise in today's scenario that these critical illnesses are becoming a reality in everyone's life.
To cover the un-avoidable cost of critical illness, Chola Mandalam Group has come up with Chola Critical Healthline policy which offers fixed benefit (a lump sum amount of compensation equal to sum insured) up on diagnosis of any critical illness. The lump sum amount offered is irrespective of the hospitalization or recovery expenses. The Chola Critical Healthline Policy has two variants namely Standard and Advanced. The main difference between the two plans is the number of illnesses covered.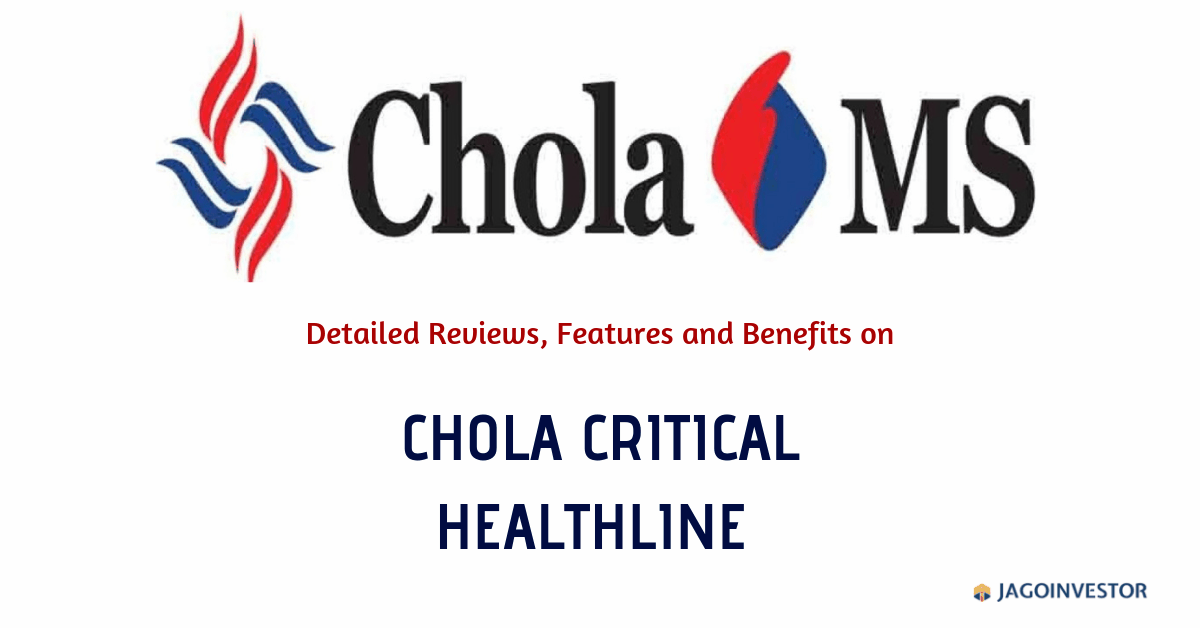 Features and Benefits of this policy –
First time purchase up to 65 years
Entry Age in the policy is 5 yrs to 65 yrs.
This policy has 2 variants namely standard and advanced
The policyholder can buy this policy for self, spouse and dependent children.
No medical check-up up to 55 years
Lifetime policy renewal
Flexible Sum Insured
Proof of expenses/hospitalization bills not required for claims
Income Tax exemption up to ₹ 25,000 u/s 80D of Income Tax Act,1961 for covering self, spouse and dependent children under Chola Critical Healthline Insurance.
Sum Assured for both the variant is Rs 3 Lac, 5 Lac and 10 Lacs
Survival period after diagnosis of critical illness for both the variant is 30 days.
Emergency ambulance cover of Rs 1,000 is available for advanced variant per insured per policy year.
What all is covered under this policy?
Chola Critical Healthline Policy come with 2 variants. The standard variant covers 10 critical illness and advanced variant covers 12 critical illness. Below table shows the illnesses covered under these 2 variants.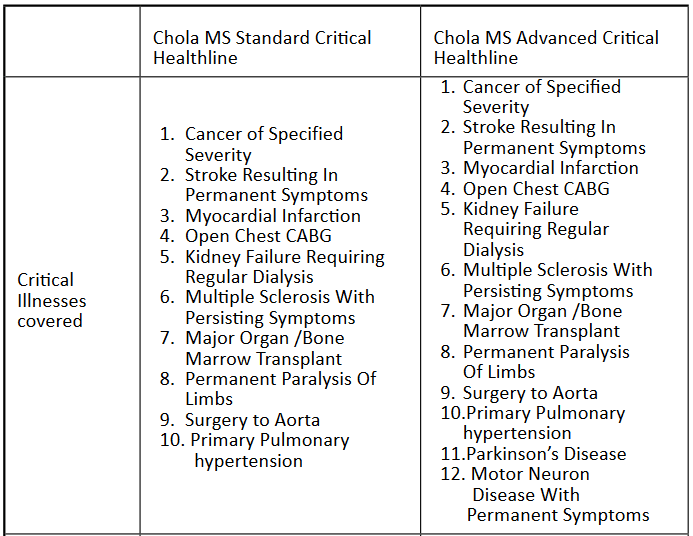 Detailed list of Survival Period of the critical illness mentioned in the policy –
| | |
| --- | --- |
| Cancer of Specified Severity | 30 days |
| Stroke resulting in permanent symptoms | 90 days |
| First Heart Attack | 30 days |
| First Heart Attack | 30 days |
| Kidney Failure Requiring Regular Dialysis | 30 days |
| Multiple Sclerosis | 180 days |
| Major Organ or Bone Marrow Transplant | 30 days |
| Permanent Paralysis of Limbs | 180 days |
| Surgery of Aorta | 30 days |
| Primary Pulmonary Arterial Hypertension | 30 days |
| Parkinson's Disease | 180 days |
| Motor Neuron Disease with Persistent Symptoms | 90 days |
Exclusions under this policy –
Any Critical Illness arising due to any pre-existing disease.
Any Critical Illness diagnosed within the first 90 days from the date of commencement of the Policy.
Intentional self-injury and/or the use or misuse of intoxicating drugs and/or alcohol.
Death of insured person before survival period specified for specific diseases.
Can I cancel the policy if I didn't like it's terms and conditions?
Yes, the policyholder can cancel the policy within 15days from the date of receipt, of this policy. This period is called Free Look Period. Refund of premium would be made after deducting charges towards medical tests, stamp duty charges and pro-rata premium from the risk start date till date of cancellation.
Claim procedure under this policy –
Inform the company upon first diagnosis of listed critical illness in the policy by mail or through toll free number.
Once the survival period is over, the policyholder will have to submit the duly filled claim form with a proof of diagnosis.
If the claim is admissible, the company will send a cheque of sum assured amount on the address mentioned in the policy.
The policy will terminate immediately on full payment of claim.
If the person insured passes away, then the company will refund the pro-rated premium for unexpired period subject to no claim.
Video Review of the Policy –
Conclusion –
So, by now you know each and every important detail about this policy . Do let me know if I have missed any important point in the comment section. Please feel free to ask any doubts regarding this policy.