The Aditya Birla Activ Health Essential Policy is a medical health insurance policy which provides cover as well as rewards if the policyholder maintains a healthy lifestyle. The Activ Health Essential Policy comes with the benefit of HealthReturns. This policy is specially designed to boost healthy living.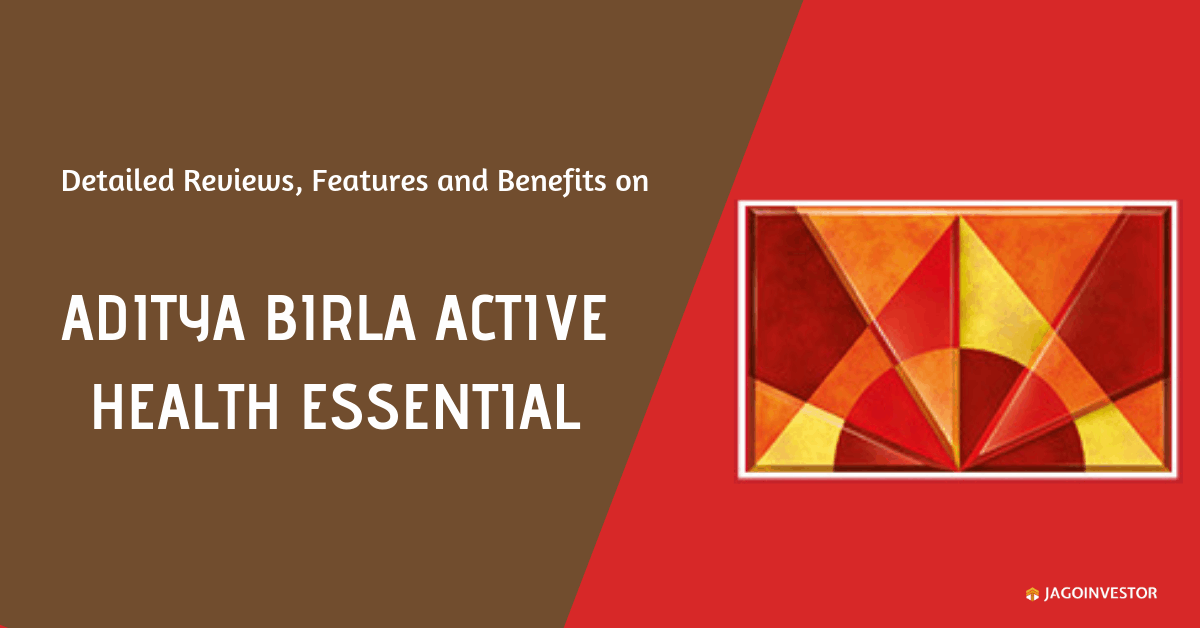 Features of this policy –
Policy Term is 1, 2 or 3 yrs.
Minimum and Maximum Sum Assured is Rs 50,000 to Rs 10 Lacs.
60 Days post hospitalization medical expenses will be covered.
30 days pre hospitalization medical expenses will be covered.
This policy provides reward points for staying fit and healthy.
Free Health check-up for each adult once a year customized to the life stage the policyholder is in.
This policy will also cover expenses if the policyholder needs to be treated at home, in case the policyholder is not in a condition to go to the hospital or there is non-availability of bed in the hospital.
Due to the advancement in medical science, certain medical procedures don't need 24 hrs hospitalization. This policy will also cover expenses for such day care treatment.
Benefits of this policy –
| | |
| --- | --- |
| | Tax Benefit on Premiums Paid u/s 80D of Income Tax Act, 1961 |
| | Flexibility in choice of hospital room |
| | Cumulative bonus of 10% of sum insured for every claim-free year. Maximum accumulation of 100% of sum insured |
| | 527-day care procedures are covered |
| | Day 1 cover for chronic diseases like diabetes, high cholesterol, hypertension, etc. with Chronic Management Program |
| | HealthReturns – Earn up to 30% of your policy premium back by staying healthy |
Eligibility Criteria of the policy –
The minimum entry age is 91 days and there is no maximum entry age. Children up to 25 years can be covered under the floater as dependents. The family floater plan covers up to 9 members (6 Adults+3 children) comprising of self, spouse, dependent parents, dependent parents-in-law, children up to 25 years (up to 3).
What all is not covered in the policy?
The Following is The List of Permanent Exclusions under this policy –
Drug abuse
Circumcision
Cosmetic Surgery
HIV/AIDS
Genetic/Congenital Disorders
Treatment taken outside India
Dental Treatment
Deliberate exposure to danger, intentional self-Injury, non-adherence to Medical Advice
Treatment directly or indirectly arising from or consequent upon war or any act of war, invasion, act of foreign enemy, war like operations
Psychological disorders, mental disorders (including mental health treatments), Parkinson and Alzheimer's disease, general debility or exhaustion (rundown condition), stress etc…
Racing in wheels or horseback, diving, aviation, scuba diving, parachuting, hang-gliding, rock or mountain climbing.
Bungee jumping, parasailing, ballooning, skydiving, river rafting, polo, snow and ice sports in a professional or semi-professional nature.
Required Documents for purchasing the policy –
Application/Proposal Form
KYC – Proof of ID and Address
Medical check-up report, if required.
Claim Procedure under this policy –
There Are Two Types Claims – Cashless and Reimbursement. The Steps for Making the claims are as follows –
A) Cashless Claim –
The policyholder needs to approach or get admitted to a network hospital.
Then show the Aditya Birla Activ Health Insurance Cashless Card or policy number along with valid ID proof.
Then, Fill the Cashless Pre-authorization and Cashless Hospitalization Request Form and submit the same.
Then, the insurer will review the forms and post approval, will process the claim.
The policyholder or family members can also check the claim status from the official website of Aditya Birla Health Insurance Company Limited.
b) Reimbursing A Claim –
In case of an emergency, the policyholder will be required to intimate the insurer within 15 days of getting discharged from the network hospital and submit the following documents –
Claim Form Part A & B
Health Card/Policy Copy/KYC
Copy of Hospital Registration Certificate
Discharge Card/Certificate
Final hospital bill with a complete break-up of all expenses
Letter from the treating medical practitioner
All the previous diagnostic/consultation papers
Pharmacy/Medical bills
Medico Legal Certificate/FIR Copy
Pre and post-operating imaging reports.
After submitting the required documents, the insurer will either approve/reject the claim accordingly. And the amount will be reimbursed via NEFT to the policyholder's registered bank account.
Can I cancel the policy if I didn't like it's terms and conditions?
Yes, the policyholder can cancel the policy within 15 days from the date of receipt of the policy if the policy is not acceptable to the policyholder. This period is called Free Look Period. But if the policy is purchased through distance marketing then the free look period will be 30 days. Free look period will not be available on Renewal of the policy.
If the policyholder has not made any claim during the free look period, then the policyholder shall be entitled to
A refund of the premium paid less any expenses incurred by the company on medical examination of the policyholder and the stamp duty charges or;
Where the risk has already commenced and the option of return of the policy is exercised by the Policyholder, a deduction towards the proportionate risk premium for period on cover or;
Where only a part of the insurance coverage has commenced, such proportionate premium commensurate with the insurance coverage during such period. Free look period shall not be available on Renewals.
What if my policy is active for 4 years but I am unhappy with the service of the company. Can I get any refund in this stage?
In case the policyholder is not satisfied with the policy or companies services, then the policyholder can request for a cancellation of the policy by giving 15 days' notice in writing. Premium shall be refunded as per table below if no claim has been registered/ made under the Policy and no benefits under the Policy have been availed in full or in part and full premium has been received.

Conclusion –
So, by now you know each and every important details of this Activ Health Essential Policy by Aditya Birla. Do let me know if I have missed any important point in the comment section. Please feel free to ask any doubts regarding this policy.