With the rise in the cost of medical treatment, having good health insurance shows a sign of relief. Good Health Insurance leads to a stress-free life. In order to have a budget-friendly and comprehensive plan then, Aditya Birla Activ Assure Diamond Health Insurance Policy is best for you and your family members.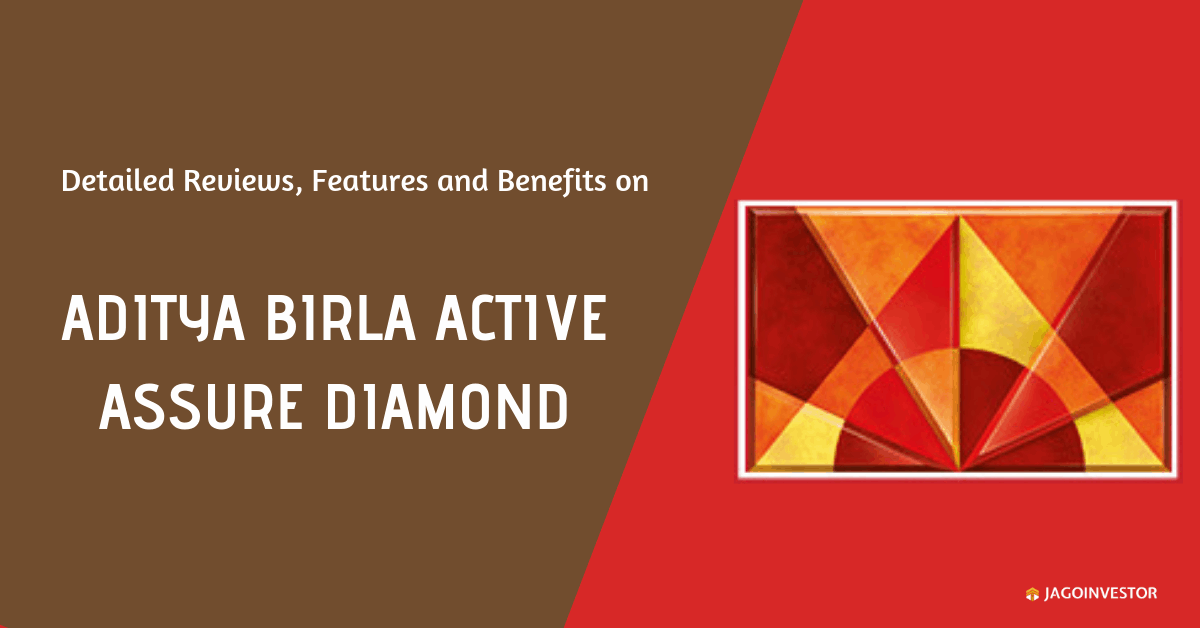 Features of this policy –
Tenure of the policy is 1 yr, 2 yr, and 3 yr.
Discount on premium if the policy is taken for more than 1 year.
The policy can be taken on an individual and family basis.
Sum Insured ranges from 2 Lacs to 2 Crores
150% of the sum assured can be reloaded.
Day Care procedures up to 586 are covered in the policy.
No Claim Bonus from 10% to up to 50% for every claim-free year.
The policyholder can earn up to 30% of their premiums paid through HealthReturns.
Annual Health-Check Up Facility is available.
Second-E opinion on Critical illnesses.
Eligibility Criteria of the policy –
Individual Policy

Minimum entry age is 5 yrs
There is no maximum entry age

Family Floater Policy

Family Floater covers up to 6 members (2 adults + 4 children) comprising of Self, Spouse and dependent children (up to 25 yrs) in a single policy.
Dependent children from 91 days to 5 yrs will be covered only if one adult is covered in the floater policy
There is no maximum age of entry.
Documents required for purchasing the policy –
Photograph of the Applicant
Age proof such as birth certificate, Voter's ID, PAN card, passport etc.
Identity proof such as passport, Aadhaar card, PAN card, Voter's ID, etc.
Income Proof such as Form 16, salary slips, employment certificate etc.
Address proof such as telephone bill, electricity bill, passport, bank statement, Voter's ID, etc.
Medical Test that the insurer requires you to undergo.
What all are covered under this policy?
Below mentioned points are written in brief, for a detailed description of the points please, refer to the policy wordings.
In-Patient Hospitalization – Expenses such as ICU charges, Operation Theatre Expenses, Qualified Nurses Charges, Medicines, diagnostic tests, Medical Practitioner fees, etc.. incurred at the time of in-patient treatment are covered under this policy.
Pre and Post Hospitalization Expenses – Expenses incurred during the policy period for Pre and Post Hospitalization expenses will be covered on a reimbursement basis.
Road Ambulance – Charges of Road Ambulance in case of emergencies will be covered up to a certain limit depending up on the Sum Assured. Ambulance charges from the hospital to an insured person's house will not be covered under this policy.
Day care Treatments – Expenses related to day care treatment (which does not require more than 24hrs hospitalization) will be covered under this policy.
Domiciliary Hospitalization (Home Care) – Expenses incurred for home care treatment of the insured due to un-availability of a hospital bed or patient not in a position to travel to the hospital will be covered under this policy provided the treatment continues for 3 consecutive days.
Vaccination Cover – Vaccination expenses for the new born baby till the age of 2 years will be covered in this policy. Below mentioned are list vaccines –
Organ Donor Expenses – Medical Expenses incurred for an organ donor's treatment for the harvesting of the organ donated will be covered under the policy. Pre and Post Hospitalization Expenses of organ donors will not be covered under the policy.
Benefits of the policy –
Before we get into the detailed description of the benefits section of the policy, let us look at the benefits in pictorial form.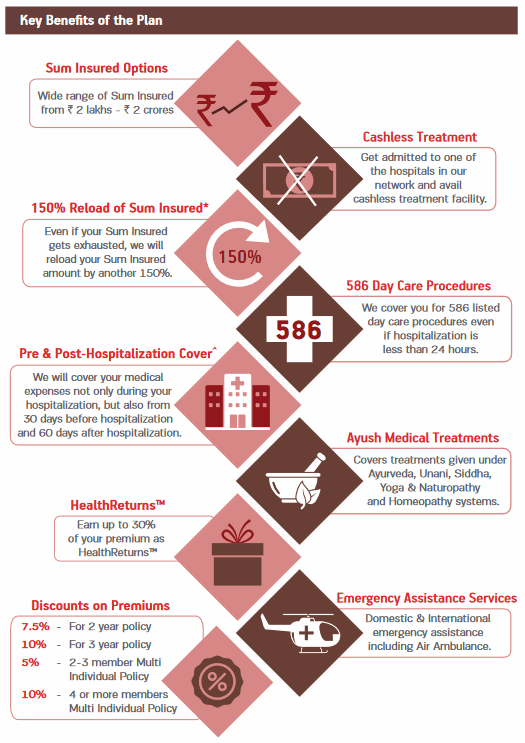 No-Claim Bonus – If the policyholder doesn't claim the benefits of the policy in a year, then the policyholder will get a no claim bonus of 10% of Sum Assured. Whenever there is a claim, no claim bonus reduces by the same rate at which it is increased i.e. 10% of the sum assured. The maximum limit for no claim bonus is 50% of the Sum Assured.
Re-Load of Sum Assured – When the insured person claims all the sum assured and other bonuses, then the company will give an additional 150% of the Sum Insured maximum up to 50 lacs for hospitalization due to an illness unrelated to the previous claims in that policy period. Re-load of Sum Insured will be available only 0nce during the policy year.
HealthReturns – It is a policy reward for staying physically fit and healthy.
Health Coach – At times a telephonic coaching session with a specialist can help a person suffering from a chronic condition. A personalized coaching by a medical expert can help the insured person suffering from asthma, hypertension etc…. 2 coaching sessions will be available every policy year for insured above 18 yrs.
Second E opinion on Critical Illness – If the insured person is diagnosed with some major illness such as heart attack, cancer, kidney failure, etc. then a second opinion or consultation of doctor is available with us.
Health Check-Up Programs – The company provides free health check-up for every insured member based on the life stage they are in for every once in a policy year. These medical tests are based on age and sum insured.
Domestic and International Emergency Assistance Services (including Air Ambulance) – At time we travel to remote places due to work or some personal reasons. In such cases, adequate medical facilities are not available. The insurer will help you such medical facility and then take you back to your home.
Accidental Hospitalization Booster – In case of an accident, this optional coverage will provide an additional sum-insured equal to the sum insured for in-patient hospitalization.
Cancer Hospitalization Booster -For the insured above 18 yrs, the company will provide an additional sum-insured equal to the sum-insured for in-patient hospitalization.
Any room upgrade – This optional cover is available to the policyholders above 5 Lacs Sum Insured. They have the freedom to get admitted to hospital without any restriction on room type.
Exclusions of the policy –
Below is the list of some permanent exclusions of the policy. For detailed description of the list, please refer to the policy wordings.
| | |
| --- | --- |
| War, act of foreign enemy, revolution, etc.. | Breach of law with Criminal Intent, intentional self-injury. |
| Cosmetic, aesthetic and re-shaping treatments & surgeries. | Psychiatric or psychological disorders, mental disorders. |
| Hearing aids, spectacles or contact lenses including optometric therapy. | Abuse or the consequences of the abuse of intoxicants or hallucinogenic substances. |
| Miscarriage, Abortion and C-section deliveries | Sexually transmitted diseases such as AIDS and HIV. |
Can I cancel the policy if I didn't like it's terms and conditions?
Yes, the policyholder can cancel the policy within 15 days from the date of receipt of the Policy. If the policyholder has made any claims during this period then a refund of the premium paid will be done by subtracting any expenses incurred by the insurer on medical examination of the Insured Persons and the stamp duty charges.
Is there any waiting period or any Co-payments?
30 days waiting period – In the 1st year of the policy cover there is a 30 days waiting period for any treatment, except an accidental injury.
Two year waiting period – For specific illnesses/treatment like Cataract, Hernia, Sinusitis, Joint replacement surgery, Varicose veins etc.
Pre-existing disease waiting period is 48 months (4 yrs).
Mandatory 20% Co-Payment – For entry age 61 yrs and above.
Conclusion –
So, by now you know each and every important detail about this policy. Do let me know if I have missed any important points in the comment section. Please feel free to ask any doubts regarding this policy.